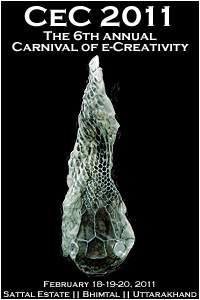 Elsewhereness:Cape Town by me and Robert Willim as part of the City Breath project curated by Kai Losgott will be screened at  Sattal a magnificent place in the Himalya mountains not too far in distance to New Delhi, where the annually CeC – Carnival of e-Creativity is taking place – 18-20 February 2011.
More info about the event–> http://www.theaea.org/cec_cac/cec11/index.htm
CITY BREATH Festival of Video Poetry and Performance
4 South African cities.  20 short experimental films.  4 minutes each.
CITY BREATH. 2009.  01:07:11.  DVD.  Experimental film selection from South Africa.
Curator / director:  Kai Lossgott.
Filmmakers / artists / choreographers / poets:  Terry Westby-Nunn, Louise Coetzer, Lolette Smith, Colleen Alborough, João Oreccia, Khanyisile Mbongwa, James Tayler, Niklas Zimmer, Mandilakhe Yengo, Alude Mahali, Ananda Fuchs, Tanya van Schalkwyk, Mduduzi Nyembe, Bandile Gumbi, Maia Grotepass, Mark Wilby, Fabian Oliver Wargau, Nileru, Jeanette Ginslov, Erica Luttich, Anni Snyman, Koeka Stander, Rat Western, Maaike Bakker, Sean Buch, Emma Jane Laurence, Anders Weberg, Robert Willim
As screened in Cape Town, Johannesburg, London, Berlin, Edinburgh, Grahamstown, Vancouver, and Marseille.
"Whichever film you watched, it's unlikely that you would have ever seen anything like it before."Cue, National Arts Festival, Grahamstown